IDM Mining just announced some huge news.
It's a junior mining stock that I actually bought last year in a private placement and own right now.
Take a look at the chart.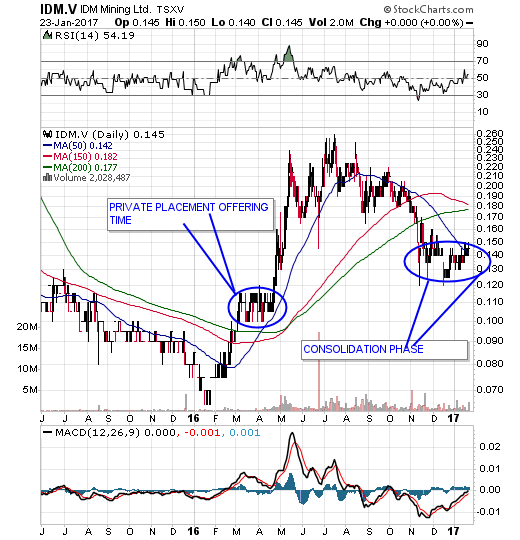 I got a circle on the chart at the time of the private placement that I bought.
You can see that IDM went up with the gold stock sector and came down with.
Like the rest of the gold mining stocks it is now consolidating.
I expect we'll see gold stocks breakout one by one of consolidation zones like this to begin the second leg of a big new bull market for them that began last year.
After the first big left of a big bull market you typically see a sharp pullback and then a consolidation phase.
Now what is the news IDM Mining announced?
Well to quote from it's press release:
IDM Mining Ltd. (TSX VENTURE:IDM) ("IDM" or the "Company") is pleased to announce the results of an updated resource estimate for the Red Mountain Gold Project ("Red Mountain" or the "Project"), located in northwestern British Columbia near the town of Stewart, BC. The updated resource includes the results from additional drilling completed by IDM during 2016 which expanded mineralization along strike to the north, south, and down-dip, as well as additionally upgrading previous inferred resources. This estimate has yielded a 32% increase in contained Measured & Indicated ("M&I") gold ounces, and an increase in average grade from 8.36 g/t to 8.75 g/t Au. The resource estimate is authored by Dr. Gilles Arseneau, P.Geo and Andrew Hamilton, P.Geo with input from IDM's technical team.

The 2017 updated resource estimate at a 3.0 g/t Au cut-off represents an increase from the 2016 estimate by 142,200 oz Au and 275,900 oz Ag in the M&I categories. Resources in the Inferred category decreased by 42,700 oz Au and 48,200 oz Ag.

Rob McLeod, President and CEO, stated "Our 2016 drilling program was successful in expanding mineralization in all of the major mineralized zones, as well as demonstrating excellent continuity of wide zones of high-grade gold mineralization. Future underground drilling from the production-sized decline will continue to step-out in all directions, including targeting the northern extension of the mineralized trend, which can be traced a further 800 meters to the north of the current resources."

"This updated resource model will now be handed over to our Feasibility Study team to be incorporated into a revised and expanded mine design," said Michael McPhie, Executive Chairman of IDM Mining. "What is important to recognize about this revised and expanded resource update is it was made possible through a modest resource expansion drilling program during 2016."
You can read the full details of this press release by going here.
My holdings disclosure for IDM Mining is here. I mentioned the private placement in the private Power Investor group when I found it and got into it.
If this is the first time you have come to this website then you need to get on my action update list by going here.