IDM Mining just announced some huge news this month.
It's a junior mining stock that I actually bought last year in a private placement and own right now.
Take a look at this stock market mastery technical analysis chart.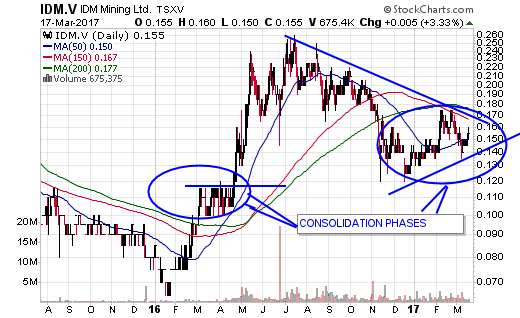 I got a circle on the chart at the time of the private placement that I bought.
That's the first circle you see from back in 2016.
You can see that IDM went up with the gold stock sector and came down with it at the end of 2016.
Like the rest of the gold mining stocks it is now consolidating.
And that's where the second circle comes in.
The stock is trading between 17 cents and 14 cents and when it goes through 17 I believe it will then go up to its next resistance zone of last summer.
I expect we'll see gold stocks breakout one by one of consolidation zones like this to begin the second leg of a big new bull market for them that began last year.
After the first big left of a big bull market you typically see a sharp pullback and then a consolidation phase.
Now what is the news IDM Mining announced?
IDM Mining owns the 17,125 hectare Red Mountain Project located in northwestern B.C., 15km northeast of the town of Stewart and in Nisga'a traditional territory.
Discovered in 1989, the property was explored extensively until 1996 by Lac Minerals Ltd. and Royal Oak Mines Inc., with 466 diamond drill holes and over 2,000 meters of underground development completed, along with extensive engineering and environmental baseline work. Additional studies were completed over the past 12 years by Seabridge, North American Metals Corp. and Banks Island Gold Ltd.
An economic preliminary assessment study finds that this project can be put into production to do the following:
Preliminary Economic Assessment

Base case economics utilize a gold price of US$1,250 per ounce and silver price of US$15 per ounce and an exchange rate of C$1.00 equals US$0.80.

The pre-tax base case economics indicate a Net Present Value (NPV) of $133.1 million at a 5% discount rate with an Internal Rate of Return (IRR) of 42.4% and a 1.9 year payback of initial capital.

The after-tax base case economics indicate a NPV of $86.6 million at a 5% discount rate with an IRR of 32.3% and a 2.0 year payback of initial capital.

Due to the wide nature of the mineralized zones, the majority of the deposit is amenable to bulk underground longhole mining methods. The project utilizes a year round design processing rate of 1,000 tonnes per day (tpd) and underground mining rate of 1,500 tpd for 8 months per year.

Average life of mine head grade is 7.0 g/t Au and 21.5 g/t Ag

Life of project direct operating cost is estimated at US$441 per ounce of gold recovered. Net of the silver by-product, costs drop to US$418 per ounce.

Initial capital costs are estimated at US$89.0 million, CAD$111.2 million, which includes a 10% contingency.

The economic model assumes base case gold recovery rates ranging from 90.1% to 88.0% for gold and 84.6% to 76.0% for silver, depending on the mineralized zone.

Average annual payable production has increased by 25% over the 2014 PEA to 70,000 ounces of gold and 194,000 ounces of silver.

Mine life is estimated at 5 years with a 15 to 18 month pre-production period.

Opportunity to reduce project capital costs include sourcing used mining and processing equipment and possible sharing of infrastructure costs for the road and powerline with an established independent power producer looking to develop a run-of-river hydroelectric project adjacent to the proposed mill site location.

Opportunity to increase potentially mineable ounces through the conversion of additional inferred resource by way of infill drilling, as recommended by JDS, and through immediately proximal exploration efforts.
What is more IDM Mining has some heavy investors in the company and this project.
Just a few weeks ago Osisko Gold Royalties invested $15 million in a private placement with IDM!
Osisko has now taken a 19.95% stake in IDM!
And this money is going to be used to put the Red Mountain project into production.
You can read the details of the full press release on Osisko's investment here.
You also can find out more about IDM Mining at its website www.idmmining.com.
At the time of this post I own a position in IDM Mining. I mentioned the private placement in the private Power Investor group when I found it and got into it. My updated holdings disclosure is here.
If this is the first time you have come to this website then you need to get on my action update list by going here.